THE IDENTITY
Ande La Monica did the complete branding of Naula Workshop, formerly A&N Design Corp. Naula is a fantastic furniture manufacturer based in Brooklyn. Angel Naula, who is the founder and creative director, began apprenticing at his family's workshop in Ecuador at the age of six. After moving to New York, Angel carried on the integrity, craftsmanship, and mastery instilled by generations of furniture makers.
"Naula's work is quite unique. There is a beautiful simplicity to everything they make," says Ande. "It's amazing, high-end craftsmanship coupled with these luxurious little details. The pieces are very modern in design, but, looking closely, you can find a little bit of nostalgia in each one. These are some of the qualities that make Naula unique and the brand needed to reflect that. Keeping this in mind, we developed a visual identity for the website, catalogue, and marketing materials."
The website for Naula designed by Ande & Partners
"The site is a very nice showcase of the work. It's clean, easy to navigate, and the viewer can see the distinctive character of the furniture. The photography we shot was beautiful. We cropped the images dramatically and focused on the details of the piece. Along with smart and engaging copy, everything works well together."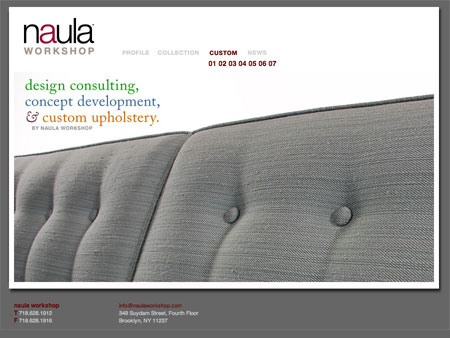 MArketing sales Catalog
Ande La Monica continued, "The catalogue is a great way to take the collection home with you without being this bulky, cumbersome book that most furniture companies have."
Marketing Materials
"The part of this project that was a simple joy was the posters. The playful use of typography was a throwback to the vintage Knoll and Olivetti advertisements where furniture, art, and design rolled together like dice in Vegas.
Taking the brand to market
Naula Workshop has collaborated with such acclaimed interior designers and architects as Kelly Behun, Philip Gorrivan, Mark Zeff and William Green. They have also completed high-profile residential projects for Lenny Kravitz and Hugh Jackman, as well as commercial projects for Mandarin Oriental NY and LaGuardia Airport.